Top Online Bachelor's Degrees in Healthcare Administration for 2023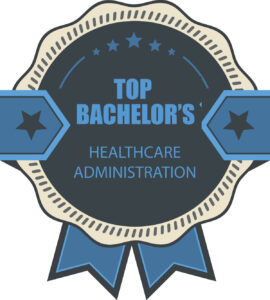 With healthcare challenges looming on the economic horizon, the demand for new healthcare administration executives is intense, and growing fast.
The compensation levels for those executives is also getting pretty intense—even exceeding the salaries of some of the surgeons and doctors they supervise in many instances.
Good money means a lot of interest from students, and interest from students means a lot of colleges getting in on the healthcare administration degree game. Our search for accredited schools offering healthcare administration bachelor's degrees turned up around 450 different online and campus-based programs coast to coast.
If you plan to get in on the amazing opportunities and big-league salaries available to healthcare administrators in every corner of the country, you're going to have to find a way to start filtering through the hundreds of degrees out there to find the ones that align with your career goals and that meet your cost and scheduling requirements.
<!- mfunc search_box_body ->
<!- /mfunc search_box_body ->
<!- mfunc feat_school ->
Online Programs Provide a Solution to Any Barrier to Education
Taking the direct path from high school to college is becoming more rare. Having your tuition covered and a major in mind at this stage of your life is rarer still. This makes online bachelor's programs an easy choice for both traditional students willing to look out-of-state in search of the best value, and the growing demographic that fits the non-traditional student profile, including people working in healthcare or other industries and supporting families, and anyone with an associate's degree in a healthcare discipline looking for a 2-year completion program that will qualify them for jobs in administration.
Online programs represent the most convenient, and often the least expensive options out there. With little disruption to your daily life and routine, an online program can put you in the driver's seat without putting you in debt or sidetracking your current career path.
With so many programs from accredited schools going online, getting a bachelor's degree in healthcare administration has never been easier. But the very fact that there are so many options out there means the process of finding the right one is getting more and more complicated.
How We Selected the Best Online Health Administration Bachelor's Programs
After carefully calculating the costs and benefits of every online bachelor's program in health administration offered at accredited schools in the U.S., we picked what we felt was objectively the best option available in each state.
Here's how we made those selections…
Value
Our top criteria was, in one word, value.
Value is about more than just pricing. You'll find a range of costs for the programs here. Value is about finding the best price for the education delivered, and a price tag that's in alignment with the going rate in different parts of the country. So if you see a high number on the cost-per-credit line, you can be sure that the school offers a correspondingly excellent education for that money.
Accessibility
A program's credit transfer policy was a big consideration too. With the non-traditional student fast becoming the broadest student demographic, we appreciate the schools that make a point of seeing to it their programs are accessible by allowing students to transfer in credits for courses already taken, or even test into credits as a way to reduce the time and expense of earning a bachelor's degree.
Specialty Accreditation and Other Accolades
Naturally, every school has a general accreditation from an agency recognized by either the U.S. Department of Education or the Council for Higher Education Accreditation. But we also looked at whether the program had an additional accreditation from one of the three specialized business accrediting agencies in the U.S.:
AACSB (Association to Advance Collegiate Schools of Business)
ACBSP (Accreditation Council for Business Schools and Programs)
IACBE (International Accreditation Council for Business Education)
Because those agencies only accredit business programs, the designations are only relevant to degrees that are part of business schools. Though less common, there are also plenty of health administration programs housed in the health sciences departments and nursing schools of major universities. This means that specialty business accreditation was only one factor, not a deciding factor for being included on our list.
If a school offers a master's in healthcare administration – especially one with CAHME (Commission on Accreditation of Healthcare Management Education) accreditation – we took notice because we know how important this is to students thinking ahead to graduate studies. If a school has received accolades from other third-party organizations, we saw this as reason to take another look at the program. Schools that offered additional industry-recognized certification options as part of the program definitely go above and beyond and were also worth a second look.
Curriculum and Career Path Alignment
We identified programs we felt had the optimal mix of healthcare training and good, solid business practice elements, too.
Getting this mix right doesn't mean offering the same combination of courses as every other school. It more often means creating a course sequence that truly reflects the program's unique focus in terms of the facility type and patient population it prepares students for, and the concentration options it offers.
<!- mfunc search_btn -> <!- /mfunc search_btn ->
In some cases, business degrees with healthcare concentrations did a better job of blending those elements, and in other cases programs housed in healthcare departments were the ones that stood out. That's why we have degrees on our list that come from both camps.
Other Unique Features
We took a broad look at the school itself, too. You'll see where we've listed related programs, including master's degree programs that you might want to move on to later. That helps give you some idea of the breadth of expertise that the programs can draw on and how experienced the school is in different specializations.
Finally, we took a closer look at the truly unique offerings that each school put on the table. In some cases this might be a specialized concentration that no other school offers, in others it's the fact that the health administration program maintains partnerships with respected healthcare providers to provide a pipeline for student internships and jobs, and in other cases the stand-out characteristic was the fact that the school was home to student chapters for industry-leading professional associations.
The Best Online Health Administration Bachelor's Programs in Each State
Of the 450 bachelor's programs in health administration out there, we narrowed it down to a top pick or two for each state where online programs were available.
The right online program for you is out there… and we're sure you'll find it right here on this list.
---
Find Online Bachelor's in Healthcare Administration by State
This list features programs that our editorial staff hand selected to present as top recommendations. We believe the many aspects of a program that come together to create an exceptional student experience can't be reduced to numbers alone, so no formula was used to attempt to score or rank these programs. Instead, they represent our top picks based on a thoughtful review of the things we know mean the most to students. Each one of these programs offers something unique, and all come equally highly recommended. We stand behind the principal of editorial integrity and make these recommendations independently and without compensation.
---