Top 35 Most Affordable Healthcare Administration Master's Degree Programs for 2023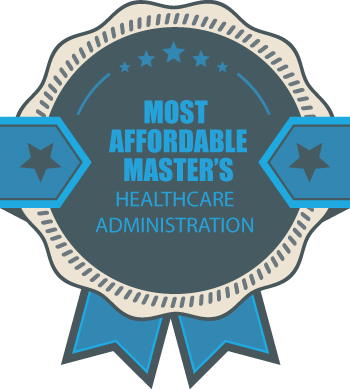 You probably already have a pretty good sense of what's involved in assessing healthcare administration master's degrees… after all, here you are, checking out master's degree options, and you knew enough to look for a list including only those that have been accredited by CAHME, the Commission on Accreditation of Healthcare Management Education.
CAHME accreditation is reserved for the cream of the crop in healthcare administration graduate programs, so you know that any one of the schools featured here can provide the education you need to rise to the top of the ladder as a healthcare executive.
But just getting a top-notch education isn't your only concern. It's just one piece of a bigger puzzle you're trying to put together. You have goals and aspirations just like anyone else… and just like anyone else, you also have constraints—the monetary kind.
Nobody's handing you a blank check to cover the cost of earning a graduate degree, so the trick is to find the top-tier program that's going to get you over the finish line without leaving you with so much debt you can't fully enjoy the pay bump you'll be getting with your new executive position.
<!- mfunc search_box_body ->
<!- /mfunc search_box_body ->
<!- mfunc feat_school ->
Affordability Can Be Hard to Come By in a Quality MHA Program
A master's degree can be many things, but cheap is never one of them. You're going to be looking at five figures no matter what, and climbing higher and higher in that range depending on the location, reputation, and amenities of the particular school.
It's no fluke that the best schools charge high rates. A program worthy of CAHME accreditation costs real money to put together. To make the grade, universities have to invest in creating clearly articulated strategic plans that ensure the very best outcomes for graduates. These include…
Institutional goals and internal evaluations
Financial and administrative support
Assessment and admission standards
Student-inclusive decision-making processes
Competency-oriented curriculum design
Experiential learning opportunities
CAHME then verifies these strategies have been effectively implemented, nailing down the details with on-site inspections and a variety of assessment methods that really put schools under the microscope.
So schools are spending buckets to meet those high standards and you can be sure they are also charging to cover those costs.
But overhead isn't a fixed number. Some schools are run better than others; some have advantages when it comes to location or endowments or other factors that let them shave a few bucks off that hefty tuition rate.
We've put together a list of the most affordable CAHME-accredited master's programs in the United States to show you exactly which of the schools out there are stretching to get you the best deal.
If you're looking for good value in your education, look no further.
How We Built The List – It's All About Value
If all you wanted was a cheap program, then you probably wouldn't make CAHME-accreditation one of your basic requirements. There are less expensive programs out there, but those are the ones that haven't gone through the trouble of qualifying for CAHME-accreditation.  We feel strongly that the best value comes with isolating the most affordable programs that have met the highest standards by earning the CAHME stamp of excellence.
Cost
We found that looking at the total base tuition provides the best single metric to use when comparing price. So we started by simply identifying the overall cost of every single CAHME-accredited program available in the U.S. to isolate the lowest cost programs. Easy enough.
But taking into consideration the mix of part-time executive programs specifically designed for mid-career professionals that meet just once weekly, accelerated options and traditional residential programs, the varying number of credit requirements in each program, and the fact that some schools still use the quarter system rather than the semester system, we realized that cost-per-credit was often a better indicator of what grad students could expect to encounter as they make their way through the program. That's why we went ahead and included that info too.
<!- mfunc search_btn -> <!- /mfunc search_btn ->
Since even online CAHME-accredited programs usually involve at least some on-site requirements, we know that location is something you need to think about when considering your options. So to give you a feel for how each program stacks up against other CAHME-accredited options in the area, we did a little easy math to come up with the average cost in each region. This allowed us to present you with how much less than the regional average each program on our list costs to really illustrate the kind of value these programs offer.
Here's a key showing the average cost per credit, and the total program cost for CAHME-accredited master's programs in each region:
West – average cost: $36,212 / $705 per credit
Southwest – average cost: $37,843 / $759 per credit
Midwest – average cost: $53,475 / $945 per credit
Northeast – average cost: $63,122 / $1,321 per credit
Southeast – average cost: $32,486 / $690 per credit
Quality
Knowing that a program is CAHME accredited won't tell you everything. Of course, CAHME-accreditation is the best indicator of the level of quality you can expect from a program, but there are schools that go the extra mile to offer students something that goes beyond even those standards.
You need all the information you can get about the content and structure of each program in relation to the cost so you can make your own determination about where the best value is based on your particular needs.
That's why we included some other points we thought you'd appreciate as you consider the things that are most important to you in a graduate program:
Entrance exam requirements
Focus areas and dual degree options
Faculty expertise and experience
Special opportunities for internship, capstone projects or residencies
Third-party awards for excellence
The 35 Most Affordable CAHME-Accredited Master's Degree Programs in Healthcare Administration
Value is always found somewhere between what you pay and what you get for that price, but not all aspects of a program are going to be equally important to all grad students. Determining value really comes down to a subjective assessment to figure out which one of these well-priced programs is going to give you everything you're looking for.
What you can be sure of is that this list shows you the lowest cost CAHME-accredited programs in each region, along with all the information you need to compare features and find the one that's right for you.
---
---
West Region
(average cost $36,212, $705/credit)
Northeast Region
(average cost $63,122, $1,321/credit)
Midwest Region
(average cost $53,457, $945/credit)
Southeast Region
(average cost $32,486, $690/credit)
Southwest Region
(average cost $37,843, $759/credit)