2023: Top Master's Degree Programs in Healthcare Administration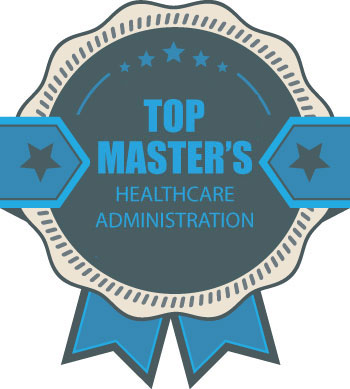 If you've been paying any attention at all in your research into healthcare administration master's degree programs, you've run across CAHME: the Commission on Accreditation of Healthcare Management Education.
CAHME is the only accrediting agency recognized by the Council for Higher Education Accreditation (CHEA) and the Department of Education as being qualified to review and accredit healthcare administration programs specifically.
That means CAHME is the authority in the healthcare administration and management education space.
And it's not just MHA programs. CAHME is happy to consider any top-flight healthcare management-related grad degree program, including master's programs in public health, and even public administration and MBA programs with a healthcare management focus.
Being sure you're looking at CAHME-accredited master's program is definitely the right place to start, but that still leaves you with more than 70 schools offering:
Dozens of executive master's programs in healthcare administration
Conventional MHA programs, including online options
MBAs with a focus in healthcare management
Master of Public Administration (MPA) degrees with a focus in health services administration
Master of Public Health (MPH) degrees with an emphasis in health management and administration
That's a pretty manageable list to work with, but we wanted to make narrowing down your options even easier by doing an in-depth review and assessment of our own, presenting you with the absolute cream of the crop – truly the best of the best in healthcare administration grad programs.
<!- mfunc search_box_body ->
<!- /mfunc search_box_body ->
<!- mfunc feat_school ->
How Each School Made The List
So how do you take a list of truly exceptional programs and find the best in the bunch?
We started by identifying the points we know mean the most to prospective grad students, and the points that help tell the story of how well the program prepares graduates for career advancement – things like post-graduation job placement rates, flexibility in scheduling and online delivery options, access to instructors, how well the program is connected to the local healthcare leadership community, and, of course, value.
Value
Although we already had a pretty select list of schools based on their accreditation status and other criteria, something every student can appreciate is relative value. That is, which program offers the best bang for the buck.
We include the per-credit costs for each school, and when push came to shove in comparing two or more colleges in a given region, guess who made the list and who didn't? That's right… if you can get the same quality education for a few hundred bucks less each semester, then that has to be your top pick.
Awards
CAHME itself recognizes that not all schools are created equal. Each year, they recognize a handful of programs from accredited schools that stand out in some other way and name them in an annual awards program. Awards include:
The Ascension Award for Excellence in Healthcare Leadership
The Baylor Scott & White Award for Excellence in Quality Improvement Education
The Canon Solutions America Award for Sustainability in Healthcare Management Education and Practice
The Cerner Award for Excellence in Healthcare Management Systems Education
You'd better believe that if the accreditation agency finds something special about a particular program after stringently evaluating so many, that's worth paying attention to.
Our Favorite CAHME-Accredited Master's Programs in Healthcare Administration
In addition to conventional master's programs designed for traditional students taking a straight path from an undergraduate degree to a master's, we've also included several executive master's programs, flexible options designed to accommodate the busy schedules of mid-career executives boosting their education for the next rung on the corporate ladder.
<!- mfunc search_btn -> <!- /mfunc search_btn ->
To make sure this list was actually useful for prospective grad students across the country, it only made sense to organize it by state. And because excellence isn't something that's always evenly distributed, we included more than one school from states that had more than one top-ranked program, and left out states when we couldn't find any college that met our stringent standards.
We know there's a lot more to choosing a program to invest in than just a general assessment of quality and value. You need specifics – brass tacks like cost-per-credit regardless of residency status… whether the program is offered online or requires some time on campus… internship options and post-degree fellowships that might be involved… scheduling options for students looking to take their time in a part-time program and for those looking for an accelerated option… concentrations that best align with a specific career trajectory, specialty, or patient population focus… dual degree options for the most ambitious grad students… and the major corporate healthcare providers a school might work in partnership with.
With all this in mind, we included all the key points you'll need to make a fully informed decision about which program is really going to work for you.
No matter what your current circumstances, career goals and scheduling needs might be, you'll find your very best options right here on this list.
---
This list features programs that our editorial staff hand selected to present as top recommendations. We believe the many aspects of a program that come together to create an exceptional student experience can't be reduced to numbers alone, so no formula was used to attempt to score or rank these programs. Instead, they represent our top picks based on a thoughtful review of the things we know mean the most to students. Each one of these programs offers something unique, and all come equally highly recommended. We stand behind the principal of editorial integrity and make these recommendations independently and without compensation.
---